Pandemic Positives: May 2020
05 May 2020
Before I knew that flour would turn into gold dust I organised a bread exchange in my block of flats in Muswell Hill, North London. I spent all day baking and left a mountain of sourdough on my doorstep, offering to swap a loaf for 'anything'. Returning to the scene a few hours later all the bread had magically disappeared and I was overjoyed with the results of my bartering. A hand-embroidered bee in a tiny wooden frame, a poem, a collage, a book I've been meaning to read forever and lots of tinned goods!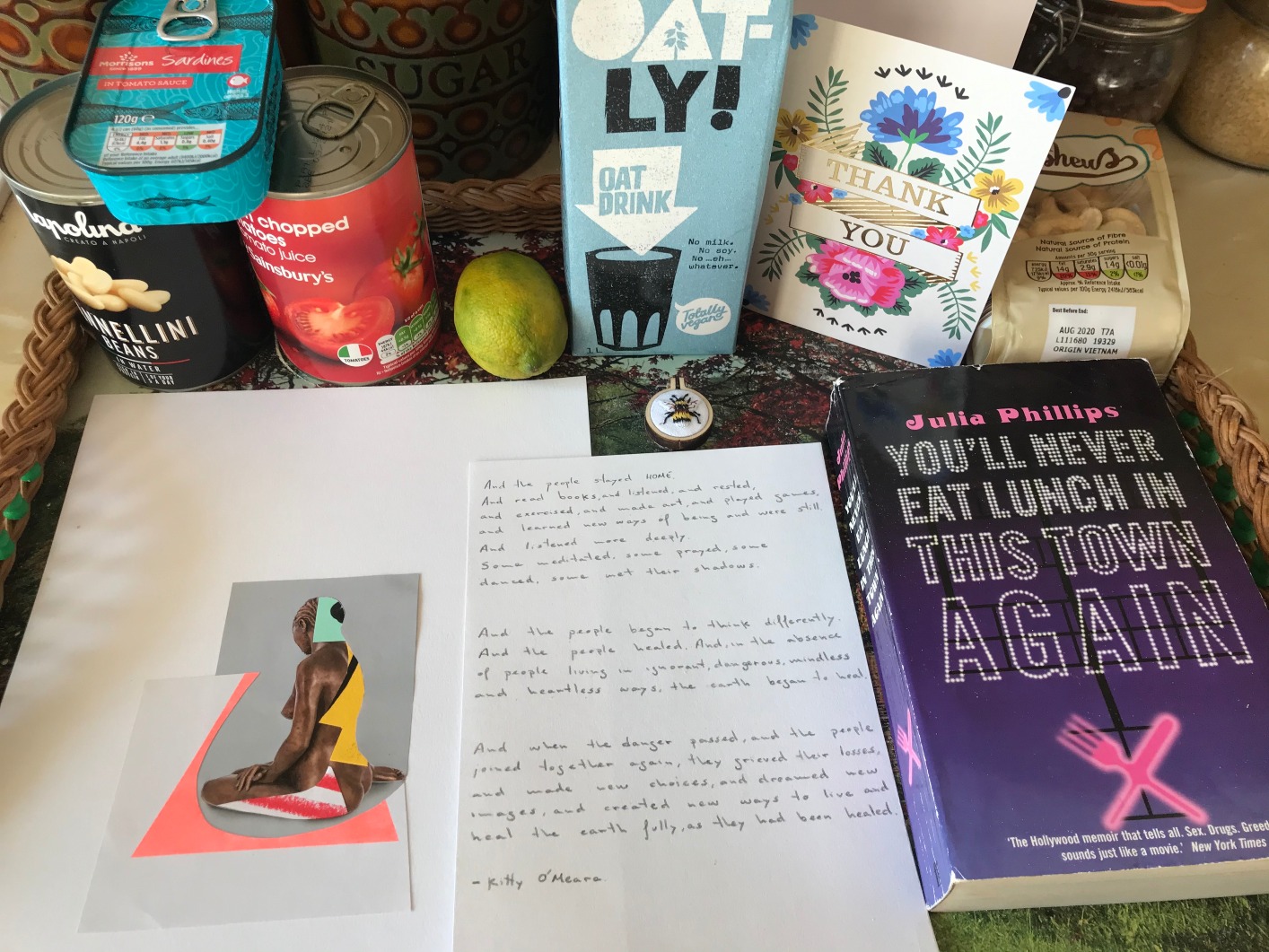 I knew that Guild members would be beavering away during the lockdown and a call went out for feel-good stories about rekindled passions and community spirit. Here are some heart-warming tales to entertain and inspire you during these very strange times.
Louise Walker sent a report sparking the desire to put my own house in order, 'I have been self isolating for just on six weeks now but I am lucky to have a garden to breathe in and enjoy the birds and blossom. Our garden is steep, a typical Bath garden so I can't work in it but never mind.
'So after 5 years in this house I have made myself sort out my cookery books, dust them and put them in some useful order. Attached you will find photos taken at random. Some date back to when I trained as a home economics teacher in Gloucester (sh 1969-1972!), some more recent and some handed down to be my family.'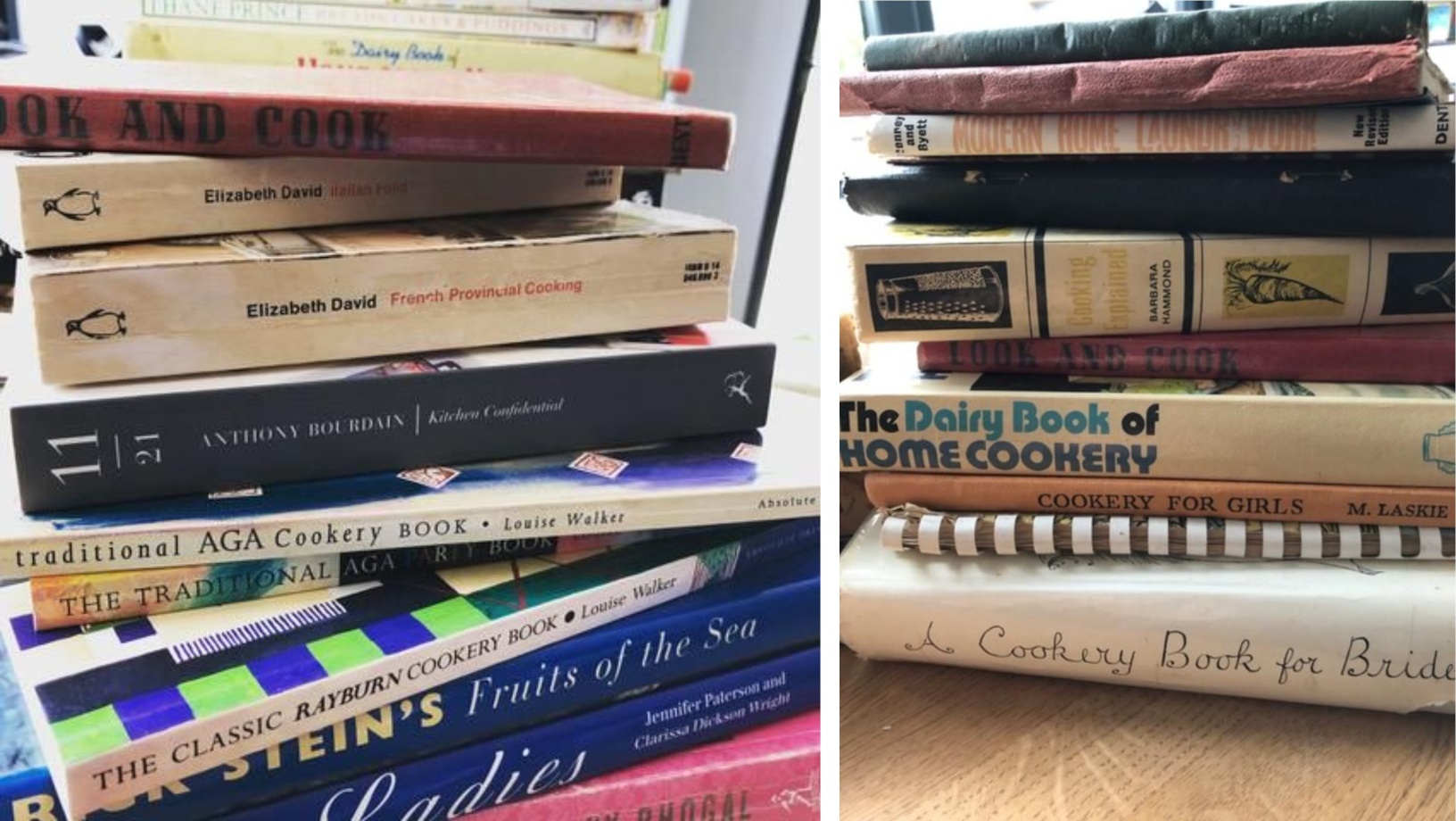 Anna del Conte in Dorset has inspired me to plan some foraging as she has been enjoying the harvesting of free and healthy food such as wild garlic, dandelions and nettles. Anna kindly sent in a lovely recipe for Guild members to try. The pesto can be frozen, although it does lose a little of its flavour. I'll definitely be on the lookout for wild garlic in North London from now on!
Wild Garlic Pesto
'This is a perfect dressing for a dish of spaghetti in the Spring and you are just in time to catch the last of the wild garlic. I always wash mine – we have plenty of dogs running around – then I put it in the salad spinner for a few seconds and I finish drying it out with some kitchen paper.
'I prefer to use walnuts than pine nuts in this pesto, because their stronger flavour can stand against the powerful flavour of the wild garlic.
'To dress about 250-300g of spaghetti
'50-60g wild garlic
'a handful of flat leaf parsley stalk removed
'50g walnuts
'75ml extra virgin olive oil
'black pepper
'1 tsp sea salt
'Put all these ingredients in the food processor or blender and whizz to a coarse paste. I sometimes add a spoonful of Greek yogurt.'
Fanny Charles sent in a very entertaining account of her renewed passion for making yogurt. Once I've organised my cookbooks like Louise, I will have located my copy of Claudia Roden's Book of Middle Eastern Food and I'll have a go at this too.
Whey to go!
'(With grateful thanks to the doyenne of Middle Eastern cookery)
'Back in the 1970s, I lived in the Middle East, in what feels like another life – before Dubai and Abu Dhabi became space-age metropolises imagined by JG Ballard, when working dhows sailed along the Gulf coast, when the island of Ras Al Sadiyat housed a biological research station hydroponically growing delicious salad vegetables, and you could drive to the desert oasis of Al Ain and sit in a date garden, talking in your broken Arabic to local women.
'It wasn't a paradise but it was vibrant and multi-cultural, long before we knew the term, and the different ethnic and religious groups all got on pretty well. We enjoyed local food – fish and shellfish fresh from the Gulf and exotic and familiar fruit and veg in the souk [market]; with friends and work colleagues we could eat memorable meals from many different traditions – Lebanese, Indian, Persian, Iraqi and Chinese.
'What we didn't have was fresh dairy. So milk came in big tins of powder – hard for a girl from the south west, used to fresh milk in bottles on the doorstep. Mixing the milk was easy, although the watery white liquid was pretty tasteless. But it proved to be good for yogurt. A Lebanese friend helped me make it, giving me my starter culture (a bowl of her own home-made yogurt). I didn't have a cooking thermometer, just a finger to check the temperature at which to stir the hot milk into the beaten yogurt (2 tbs per quart). The water had to be hot enough to sting but you had to be able to count to ten. Then you left it, covered, in a warm place. Anywhere was warm in that climate.
'When I had my first child I used to turn the yogurt into curd cheese – by straining the yogurt through doubly-boiled cheese-cloth nappy liners (my generation was not overly health and safety-conscious!). After a couple of hours there was a tasty cream cheese, which I would spread on fingers of rye bread – it kept the toddler happy for hours.
'Move on to 2020 and the coronavirus pandemic, with the restrictions for people over 70, and my partner and I find ourselves dependent on the kindness of young friends for our shopping. I don't want to be a picky nuisance – goodness knows, I never wanted to have to think about my age at all. I feel a fraud having to ask for help, since I'm not anyone's idea of vulnerable. But here we are: I have to make shopping lists. Gone is the spontaneous fun of finding a glorious pomegranate in our wonderful Wincanton greengrocers or recklessly adding to the eggs, bacon, cheese and free-range chicken at the butchers with a carrot cake or walnut sponge, made by a Gillingham baker for our butcher's shop. I can't ask our kind friends to sort through supermarket yogurts to find the particular organic or Greek yogurt I want this week. So I will have to make it.
'Turn the clock back 50 years – Claudia Roden's Book of Middle Eastern food (originally published in 1968). My saviour when I lived in that Gulf state and my invaluable kitchen assistant in 2020. The good news is that we have Bruton Organic Dairy just up the road, supplying our butcher's. So, a litre of organic semi-skimmed milk, two tablespoons of the best Greek yogurt, saved for this purpose. That's it. No list of ingredients. Just a saucepan to scald the milk, a bowl big enough to keep the milk and yogurt mix for about six hours and cheese-cloth to strain it for a couple of hours to produce a slightly thicker, more Greek-style yogurt. The whey is a great alternative to stock for soups – we were still regularly making soup at the beginning of the Covid-19 lockdown – and good in smoothies and sauces. If you leave the curd in the cheesecloth a bit longer, you get a tasty curd cheese (and even more whey).
'My old Roden cookbook fell apart with use many years ago, and I now rely on the updated (1986) version: A New Book of Middle Eastern Food (published by Penguin). If you want to make yogurt, or learn more about the brilliant, colourful, tasty and often economical food of the region, this is the best book. I have others – Moro, a colourful guide to Lebanese food, a recent collection of Persian recipes and more – but Roden is really all you need.'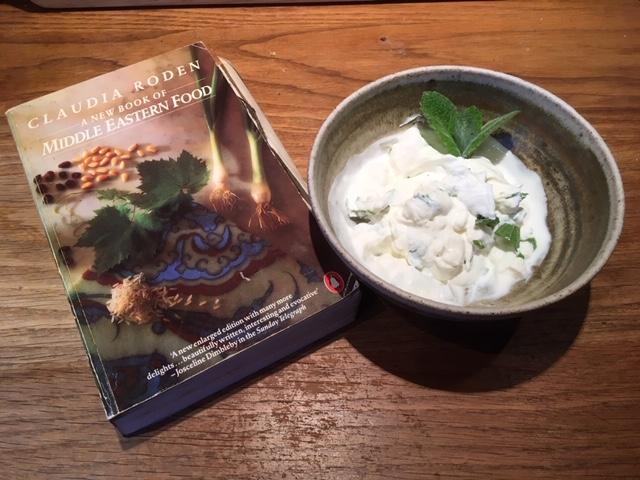 Holly and David Jones of the Manna from Devon Cooking School sent a lovely account of how they are connecting with their local community and changing the way they run their classes.
'We have been doing a once a week bake for the village – or those in the village who want some fresh bread to boost their mood; sourdoughs and focaccias heading out every Wednesday with a huge batch of hot cross buns at Easter as well. We've also turned into flour sellers as we had a delivery from Shipton Mill just before the lockdown and are now supplying all the new sourdough enthusiasts with rye, wholemeal and strong white.
'Our monthly newsletter has become a weekly one and amongst other things, we send out a baking challenge resulting in the finished bakes being sent in virtually in great numbers from all over the world – so far hot cross buns, Sicilian pizza, khachapuri and bagels.
'We obviously can't teach real people at the moment so we've been running bread and wood fired tutorials via Zoom which have been great fun if slightly challenging for our rural broadband.'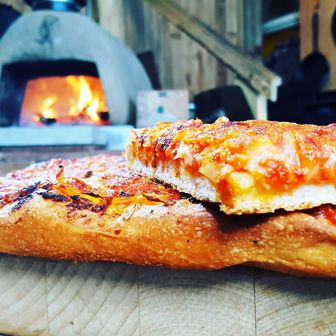 Our President Orlando Murrin has also been involved in a fun baking challenge too. He wrote, 'I've been comparatively starved of benefactory moments, because of Exeter being (so far) rather out of the coronavirus firing line. A nearby family – Amy, Laurie and Molly – have, however, been intensely isolating and together we hatched up an idea. Using a technique learnt from new Guild member Elaine Boddy, I bake loaves of bread (sourdough, needless to say) in a lidded cast iron pot. When the buzzer goes, I don my oven gloves, transport the scalding pot up the street, deposit it on Amy's garden wall and step back 2m. Amy then emerges in her oven gloves, removes the lid (cue puff of steam) and hurries back inside with the piping hot, freshly baked loaf. At the recommendation of Guild member Kate Morris (on the Facebook Forum) we've also been sharing deliveries of amazing Isle of Wight tomatoes (thetomatostall.co.uk). So in small ways, life is good.'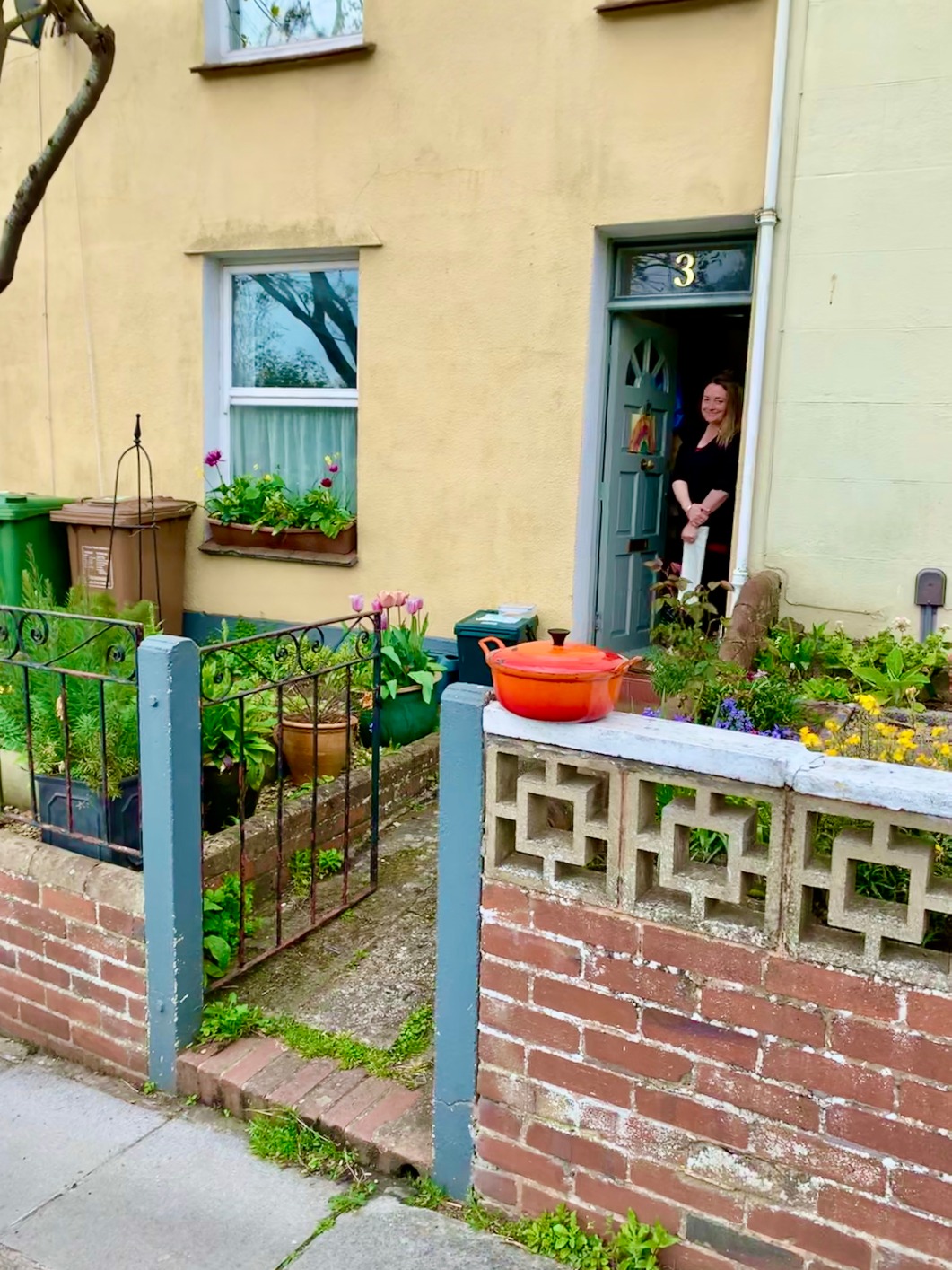 I do hope this little round-up of feel-good glory has provoked a smile or two in these very troubled times. In small ways yes, life is good!