Five minutes with… Rebecca Perl
02 February 2021
As well as her food writing, Rebecca is responsible for the lively drawings that accompany each month's coffee morning invitation – and this self-portrait (spot the Guild logo).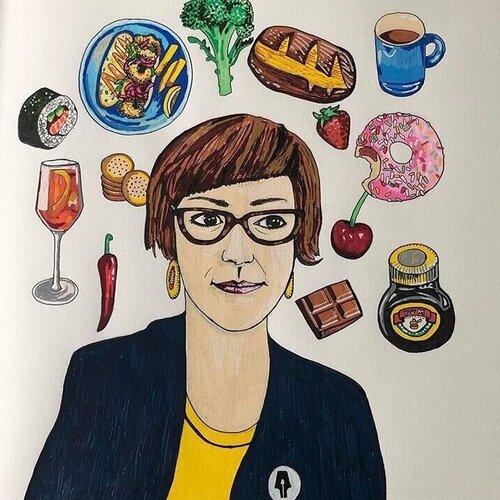 1) When did you join the Guild and what did you hope to gain from membership?
I'm a newbie – I only joined the Guild in September 2020. I hope that membership will elevate my status from 'just another food blogger' to 'erudite food writer.' As well as my blog The Adventurous Glutton I own a copywriting company called Messagelab Communications and I'd like to steer that more towards food and drink copywriting. I intend to soak up all the expertise and wisdom from within the Guild membership, and I'm really looking forward to visits and events where I can meet people IN REAL LIFE! 
2) What is your special field of interest in the world of food writing?
My main interest is in discovering small businesses and producers who are doing things a little differently. It takes me right back to my journalistic roots and makes my heart beat a little faster when I find something exciting. 
3) How has the pandemic affected your work, if at all?
With two boys aged 2.5 and 5, the main issue is finding the time for work. After a 12-hour day with them, I am good for nothing. It's certainly not the time to be sitting down to start writing. I have found that a lot of businesses are reluctant to spend money on marketing at the moment, and many of my clients are doing more in-house to reduce costs. So perhaps if I had more time to work, I'd find I wasn't very busy.
4) What are you working on now?
I'm writing a feature for Dorset Magazine on lockdown food and drink experiences. In my area of Bournemouth, Christchurch and Poole I've discovered a recipe box for kids, curated cocktail kits, virtual wine tastings and cheese making classes, letterbox treats and luxurious afternoon tea deliveries. The feature will be out in March, so I'll post a link to it then.