Natoora Summer Workshop: Thursday 28 July 2016
28 July 2016
This is a report written by Felicity Cloake of a Guild Workshop that took place on Thursday 28 July at 6.30pm at Natoora, Unit 8, Discovery Business Park, St James's Road, London SE16 4RA.
Natoora is a renowned fruit and vegetable importer and supplier to a number of high-end restaurants, as well as selling direct to the public on Saturday mornings at the Spa Terminus Market, all week via their shop in Turnham Green, and online through Ocado.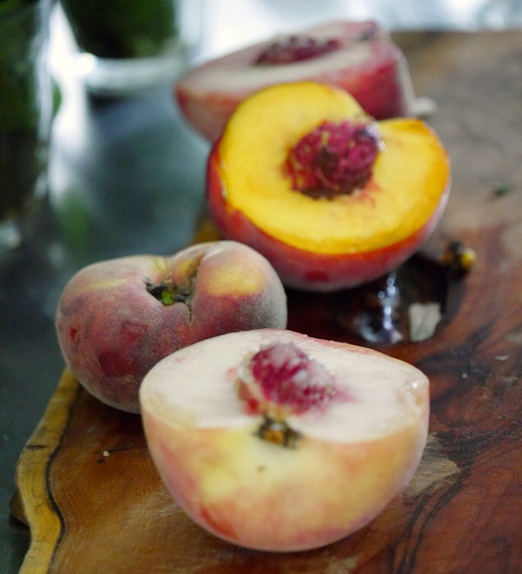 The evening offered a rare opportunity to peep behind the scenes of this renowned fruit and vegetable supplier's Bermondsey headquarters, under the railway arches in an area that's rapidly becoming a serious food hotspot as many importers and wholesalers move out of Borough in search of larger premises and cheaper rents further east.
We started with a tour of the well-chilled stockrooms, where members oohed and ahed over big bulbous aubergines, curly Trombetta squash and knobbly cucumbers, as Adam explained the southern Italian growing season was almost over, and soon Natoora would be looking further north for its produce.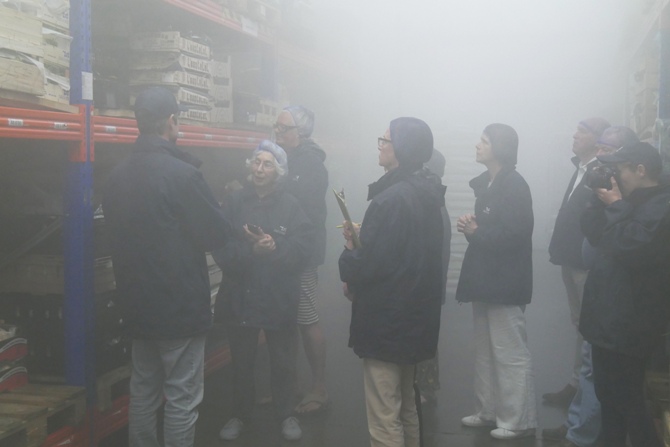 A close partnership with suppliers is clearly key to their success; Adam pointed out the peaches packed in wooden crates, many still with the vine attached, explaining that "most people won't send fruit that ripe, but we've developed a relationship with the growers". A crate of fleshy grey-green leaves caught many eyes as we headed upstairs for the real business of the evening, the tasting – salty succulent sea purslane, which he'd helped pick the day before on the south coast.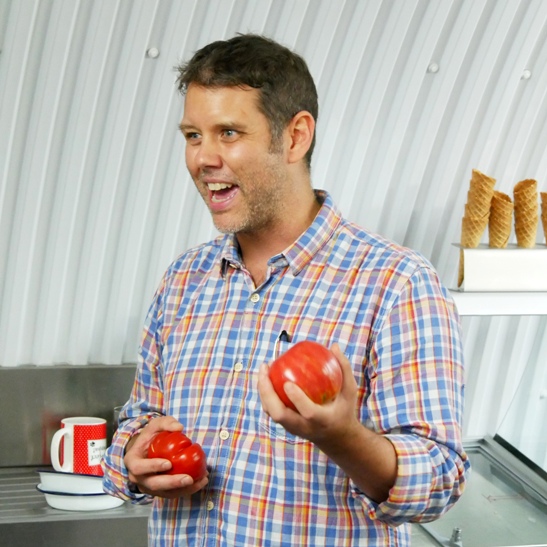 The tasting, centred around what was showing particularly well that day, took in yellow and white peaches, gorgeously syrupy Sunsweet melons and the aromatic Honeymoon variety, and three different kinds of tomatoes, as well as the sugary Lombardy Breme onion, which we discovered take nine months to grow, and sell for as much as £9 each – our host Andrew Hanna (above), the man in charge of Natoora's retail operation, acknowledged that, "rare even in Italy", such prices inevitably narrowed the market. Nevertheless, sweet and resolutely crunchy, even after an hour's cooking in butter, my table agreed it could stand on its own as a vegetable.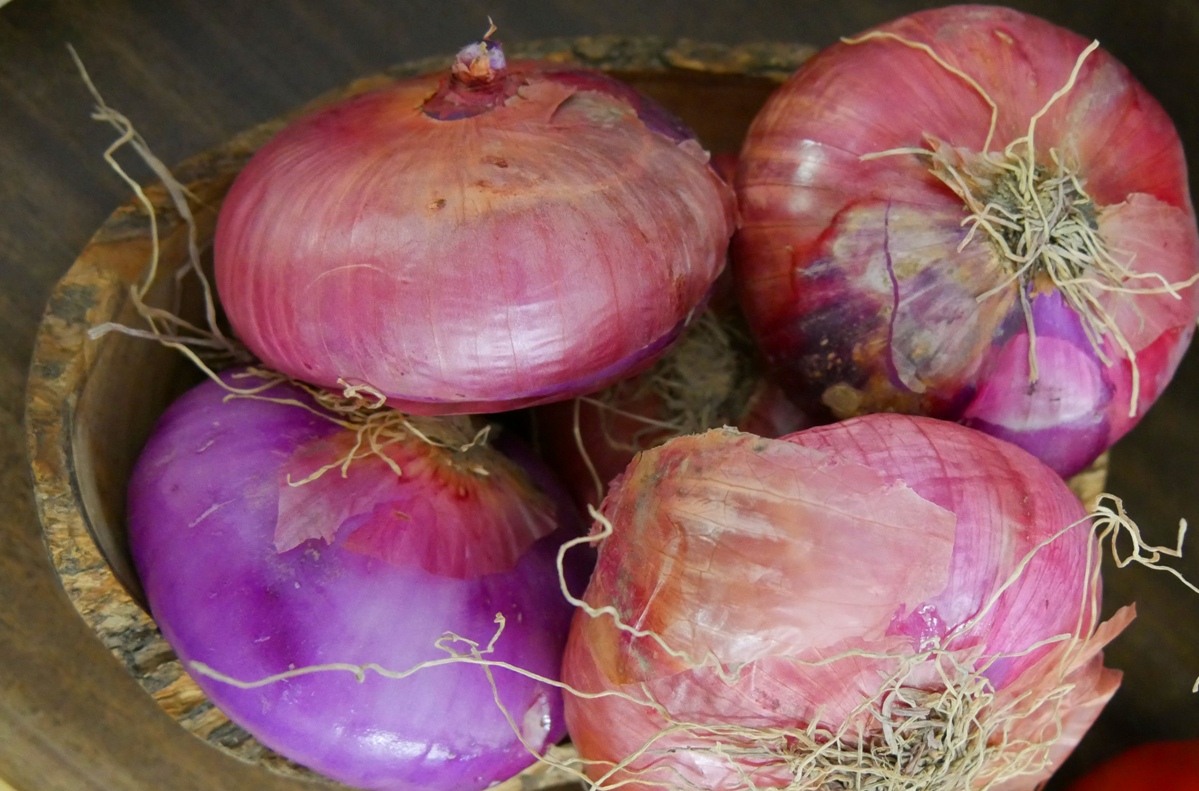 The tomatoes, which included the strikingly intense yellow pineapple variety with well-balanced acidity and firm flesh, were another revelation; we leant that a good tomato should feel heavy for its size, with no internal gaps, and the liquid around the seeds should be jellied, rather than thin – "if you pump a tomato full of water it becomes mealy… that jelly means it's been starved of water". The famous San Marzano is, we learnt, ideal for cooking because it has a thick skin that's easy to peel off, and doesn't have many seeds, "but they spoil fast, they're not made for storage".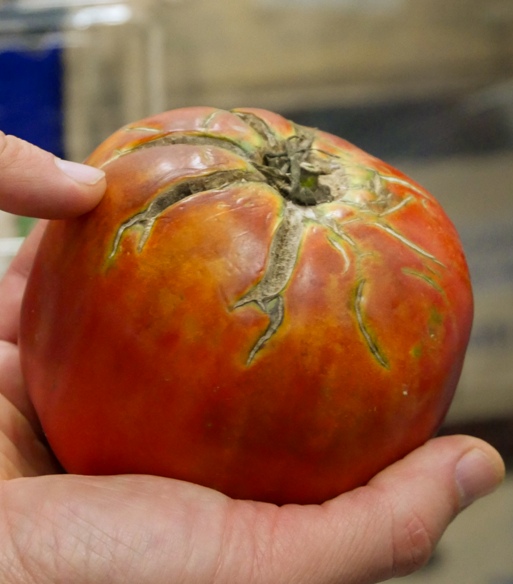 And the treats just kept coming; rocket so intensely peppery it puts those around me in mind of horseradish, and golden beetroot sliced paper thin, Ligurian DOP basil with tiny leaves and a pungent, almost clove-like flavour, and a melange of micro leaves which had us competing to identify them as the natural wine flowed along with the conversation. Natoora, we learnt, has built up close relationships with many London restaurants; the eagle-eyed spotted a box destined for Theo Randall in the stockroom, while the River Cafe and Alain Ducasse also get a namecheck in the course of the evening.
Discussion ranged from the definition of an "heirloom variety" (produce from seeds "generally accepted to be over 50 years old, but there is no legal enforcement"), and what effect Brexit might have on Natoora's business (answer, to general relief, not much, as the company employs people directly in the countries it sources from), as well as what happens to any wastage (a pallet a week goes to the Save the Date cafe, amongst other places, but excess also, apparently, makes its way to the Pitt Cue Co pigs).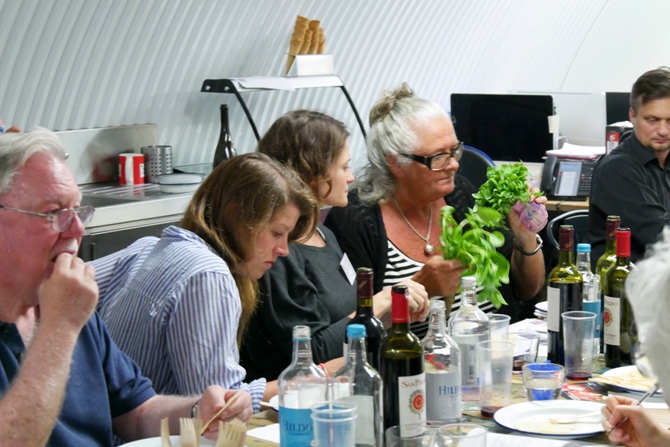 What shines through in everyone we meet at Natoora is how passionate they are about sourcing the best – "Flavour to the core" is their guiding ethos, and craggy tomatoes or pallid aubergines are all welcomed with open arms as long as they perform on the plate. And, we all agree as we pile into the Southwark dusk, merry with wine and full to the brim with some of the finest fruit and veg money can buy, tonight at least, they certainly did.'
© Felicity Cloake 2017
Photographs © Silvija Davidson 2017